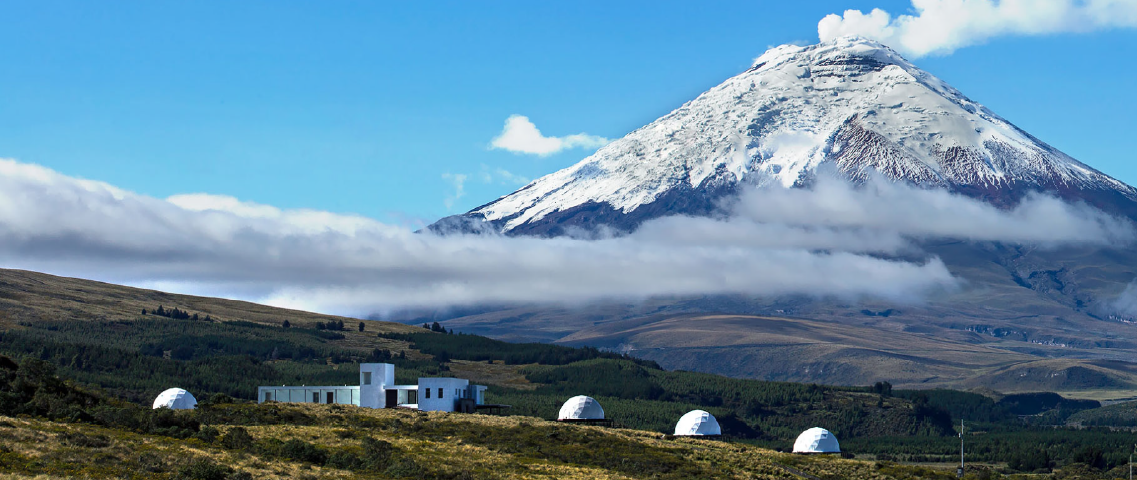 Luxury Glamping in Ecuador - Sanctuary Lodge Cotopaxi.
The Cotopaxi Sanctuary Lodge is a unique and special place located on the slopes of the Sincholagua Volcano, found in front of the Cotopaxi Volcano, the tallest most active in the world. The lodge is located at an altitude of 3600 meters above sea level (11,811 ft) and surrounded by beautiful and wide-open grasslands in the Andean paramo with a combination of forest, streams, waterfalls and rivers such as the Pita that flows peacefully near the lodge. The property is found in the middle of a private hacienda of more than 3,000 hectares of land where wildlife roam freely including red-brocket deer, Andean fox, Andean pumas, White-tailed deer, and even the rare Andean spectacled bear, along with wild horses and a huge variety of endemic birds. The most famous bird species seen in this area is the Andean Condor, the national emblem of Ecuador.
The lodge is a new concept in contemporary lodging structures with extensive social areas and a privileged panoramic view of volcanoes Cotopaxi, Rumiñahui, Pasochoa and Sincholagua. The concept of Cotopaxi Sanctuary Lodge was created on the idea of the perfect combination of ultimate comfort and elegance, while allowing the traveler to stay in touch with the amazing natural surroundings of the Andean paramo; an experience many travelers are looking for and have not been able to find until now. The property surrounding Cotopaxi Sanctuary Lodge has more than 10 km (6 miles) of private trails for hiking, horseback riding, biking or simply walking and exploring the area while enjoying the natural beauty of the flora and fauna in this incredible environment unique to Ecuador. This special place invites you to live a unique and special experience that will touch the most intimate fibers of your senses.
Published in January, 2021