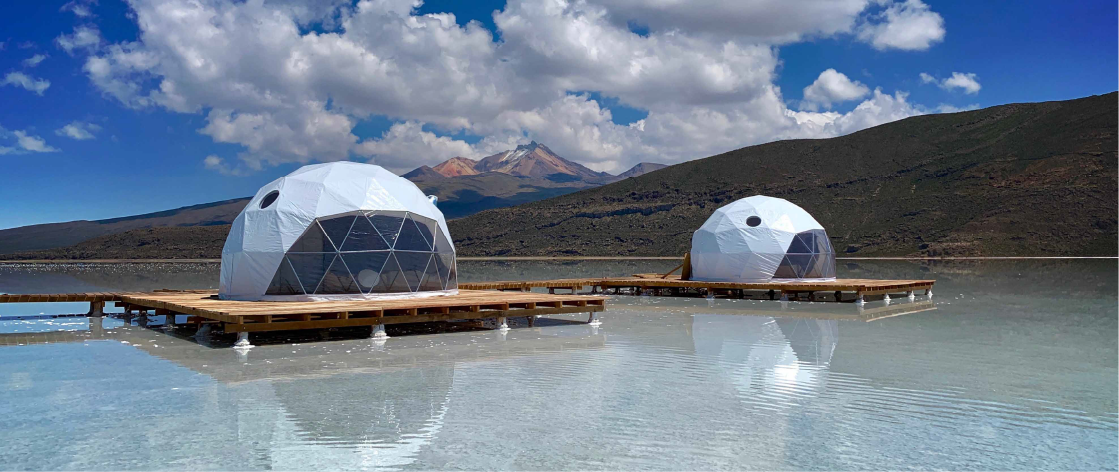 Kachi Lodge - Uyuni Salt Flats
A gem on the Bolivian altiplano is Kachi Lodge, composed of 6 individual domes offering the comfort you would expect of a luxury property. Each 28m2 dome has comfortable bedding, a private bathroom and hot water. In addition to this, you will be left speechless when you witness the inviting set-up, decorated with furnishings crafted and designed by local artists.

Uyuni itself is a mystical paradise and to top it off is the unbeatable occasion to stay at Kachi Lodge. Experience what it feels like to have a fine dining service at 3,660 meters, where nicely cooked meals are prepared by expert resident chefs who have reinvented the gastronomy with original Bolivian staples and creative recipes.

Kachi is not only a luxury property, it is also a responsible and sustainable lodge operating on solar energy. Their aim is a 0% plastic policy, supported by local communities and producers, and many more, all in benefit of their region.

Pure! Bolivia knows how to design sustainable and luxurious journeys your clients will never forget.
Published in November, 2020