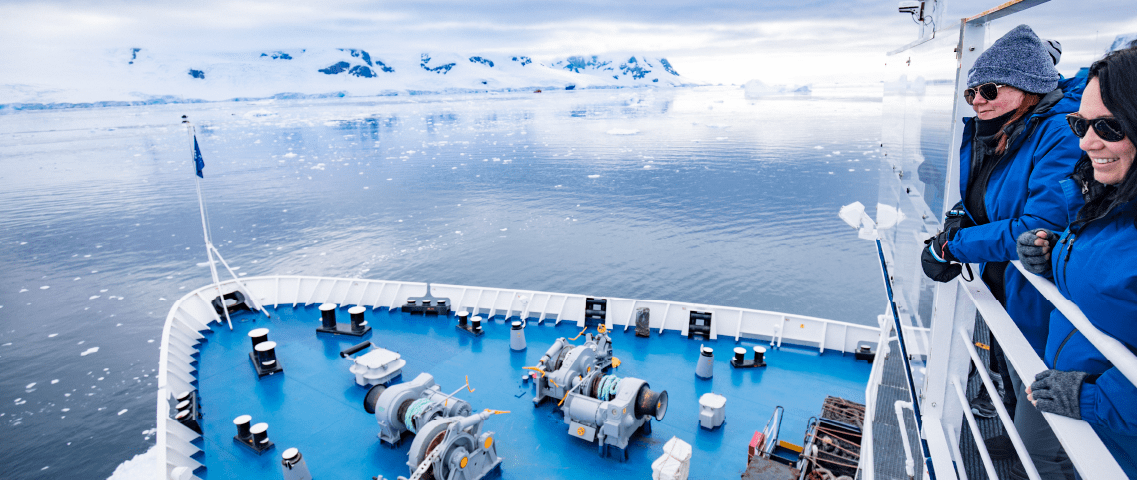 Delve into a high-class experience in the White Continent on the Ocean Endeavour Cruise. 
Take a fascinating journey across the Antarctic Ocean on an extraordinary ship. It is equipped with spacious and comfortable cabins, all of which are designed to make your stay as comfortable as possible. Includes a capacity for 400 guests and all the amenities of a four-star hotel, such as a restaurant, bar, polar boutique, spa, sun deck, and library. In addition, it complies with a strict sustainable policy to assure that the expeditions are carbon offset, the seafood comes from green sources, and the use of plastic is not allowed on board. 
You can join excursions led by expert guides, where you will get up close to the marvelous polar scenery and local wildlife, including penguins, seals, and whales. You can also take part in outdoor activities such as sea kayaking, snowshoeing, hiking, photography workshops, and ice camping. 
Additionally, for those passengers who prefer to relax in the comfort of the ship,  there exist plenty of health and wellness activities on the saltwater swimming pool, sauna, spa, and gym, while you admire the breathtaking Antarctic scenery. You can enjoy lectures from experts on the history, ecology, and geology of the area. 
Go around our recommended expeditions. First,  the Best of Antarctica trip is ideal for passengers who want an intimate encounter with the best Antarctic mainland spots and wildlife. Another option is the Journey to the Antarctic Circle, a 14-day expedition that is perfect to appreciate impressive ice carvings, snow-covered mountains, and enormous glaciers. 
Moreover, the 21-day trip to the Falklands and South Georgia, in which you can get into an unusual adventure in the Antarctic Peninsula, the Falklands Islands, and South Georgia Islands to explore the wilderness and the incredible fauna, such as penguins, Minke whales or Orcas. Also, you can celebrate Christmas and the New Year differently. Finally,  Unchartered Antarctica is a journey that takes you to the best sceneries of the western side of the Antarctic Peninsula to navigate the Weddell Sea and the Antarctic Sound, which is only available a few times in the year.
The best time to visit this world's most remote and gorgeous location is from November to March in the summer season. Contact us to book in advance this extraordinary experience on board the Ocean Endeavour Cruise for your clients. 
Published in May 2023
ANTARCTICA