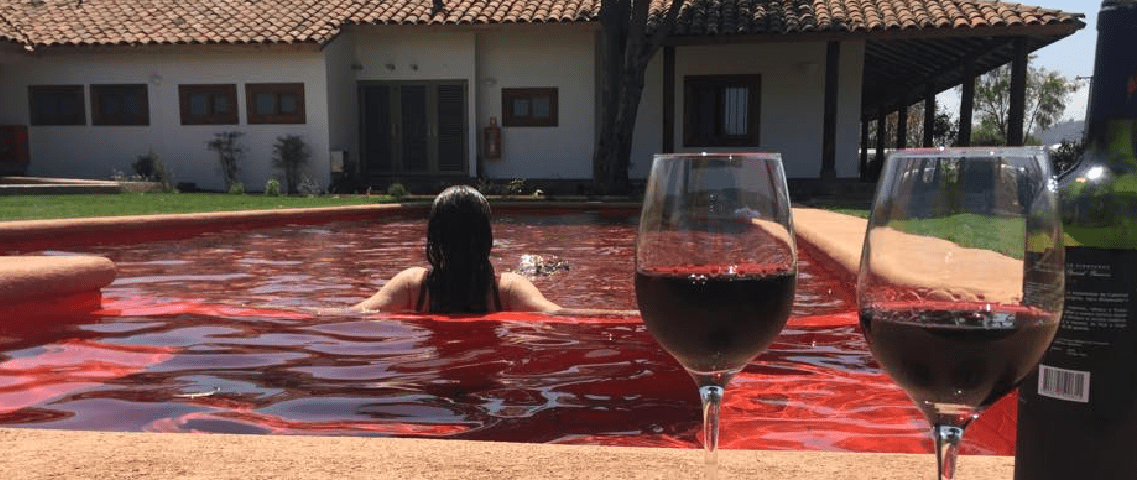 Have you ever imagined unwinding in a red pool? That's right, it is the iconic symbol of serene beauty at Hotel Boutique BCW Casablanca.
Nestled in Lagunillas town amidst the picturesque landscapes of the Chilean Casablanca Valley, near Santiago, is nowadays renowned as the tenth World Wine Capital. Thanks to its premium wine production and high-end gastronomy, it has become one of the favorite Chilean destinations.
Hotel Boutique BCW Casablanca's principal mansion was a totally refurbished site that keeps some former ornaments and dates back to the 19th century. It offers twenty spacious and well-equipped rooms, carefully designed with a delicate minimalist style, inspired by the Casablanca Valley traditional Chilean house architecture. In addition, find a wide range of possibilities to enjoy a pleasant stay by relaxing at indoor and outdoor red pools. You may enjoy the spa treatments, wooden bathtubs, and sauna. Stroll around extensive green areas that set the atmosphere with local flora and fauna. Also, visit the organic garden, where you may do activities such as trekking and biking.
Don't miss out on visiting El Descorche Restaurant, a regional winner in the Wine Tourism Restaurants category of the Best of Wine Tourism 2023 Awards by Great Wine Capitals Network. Try delicious menu options, including vegan dishes, while admiring incredible views from the terrace, or enjoy good company in the indoor dining area. As well as be part of a wine tasting or a country barbecue. Complement your visit by following the Wine Route of Casablanca Valley to the nearest vineyards, such as Matetic, just 10 min away, or Casas del Bosque, among others. As well as take advantage of city tours in Valparaiso, Viña del Mar, or Santiago.
Recommend your clients this worthwhile experience in the renowned Chilean wine region. Contact our Pure! Chile staff for the best personalized itineraries and rates.
Published in September 2023
CHILE