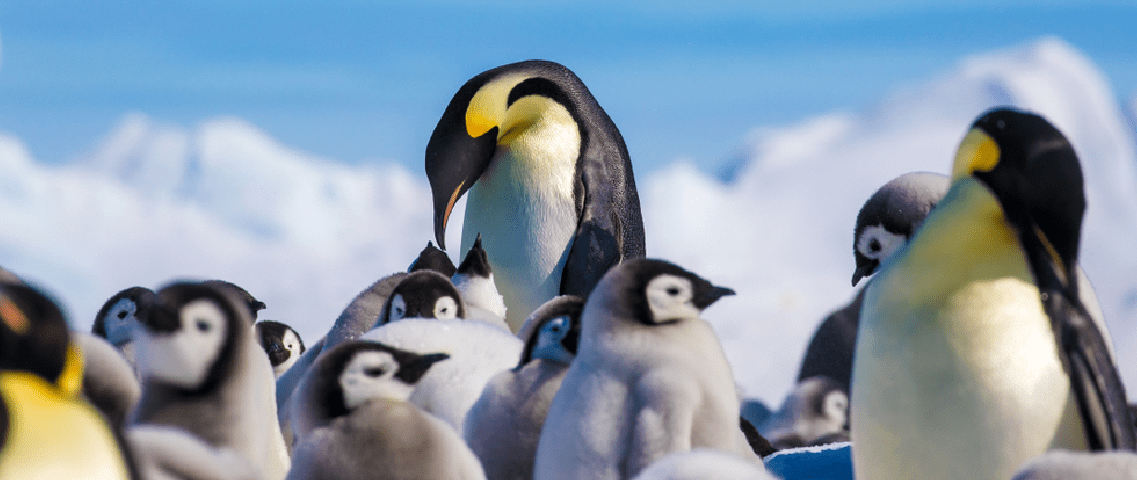 Undertake an unparalleled journey to an unspoiled, snowcapped island, incredibly surrounded by pristine frozen wilderness, which remains untouched by humankind. Located near the southernmost place on Earth, where many adventure enthusiasts drive expeditions or scientific research in the past century for the first time. Now it continues boasting magnificent scenery to new discoveries. 
Set up your trip on a polar cruise through the cool waters of the east coast of the Antarctic Peninsula in the icy Wedell Sea, while you overlook enormous tabular glaciers. Once there you can enjoy life experiences. 
First, the iconic sighting of larger colonies of Emperor penguins is the utmost encounter with polar wildlife in this location. In order to arrive at the rookery you will take a helicopter flight that will carry you to a suitable area on the island for watching, then you will hike across the snowy landscape until you can stay a few meters from the penguins' colony.
Another way to take advantage of this inhospitable site is by visiting the Nordenskiöld House, where a Swedish expedition took shelter in 1901, while they were exploring the area. Nowadays, it is considered a Historic Monument to witness the well-preserved furniture and ornamentation and learn about the history of the place and the scientific research carried out by the expedition.  
Lastly, visit the impressive Antarctic Sound commonly known as the Iceberg Alley, a place with several icebergs and snow-covered mountains, which links the Bransfield Strait to the Weddell Sea. It is featured by wildlife, including Adelie penguin rookeries, gulls, skuas, or whales swimming undersea. In addition, take a zodiac trip to appreciate the iceberg closer. As well as an outstanding experience is admiring the sunrise when the sunlight reflects on this scenery. 
We recommend visiting Snow Hill Island during Antarctic summer, from November to March, to make the most of daylight for exploration and the opportunity to witness wildlife.
Ignite your clients' wanderlust with this exclusive experience! Contact us for personalized itineraries in the White Continent.
Published in July 2023
ANTARCTICA