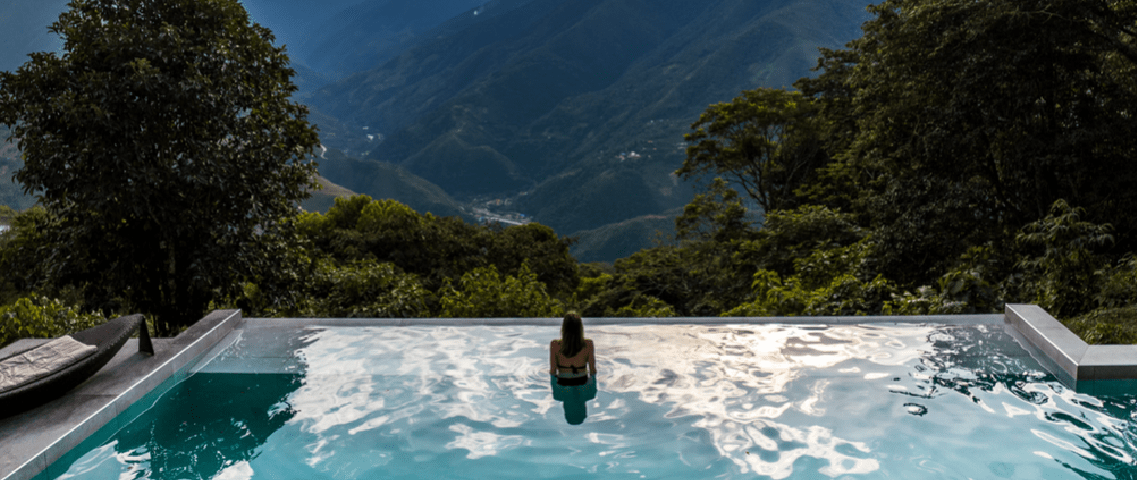 Looking forward to a secluded and revitalizing rest? Coroico in Bolivia is awaiting you. This little town is about a 2.5-hour drive from La Paz and it is surrounded by an incredible natural world in the Bolivian Amazon. Coroico is steeped with captivating attractions such as the Death Road, the most intrepid route in the world, which often is passed through by bike. Also, visit some spots to marvel at them, such as La Senda Verde, an Andean wildlife refuge, the Three Waterfalls, and Las Pozas del Vagante natural pools.
Amidst this breathtaking scenery arises the Uma Experience Lodge, an oasis of serenity that features unparalleled luxury and comfort surrounded by lush vegetation and wildlife. Each lodge area was perfectly crafted to awaken the senses and exceed expectations for a memorable stay. The accommodation options include a novelty beehive suspended in the air between the high-tree cops or modern cabins with artistic designs made of eco-friendly materials. All offer a private bathroom, grill area, and a balcony that creates an atmosphere of refined relaxation. Also, appreciate the stunning views of the impressive landscapes from any angle.
Take advantage of social areas such as the bonfire area, heated pool, beautiful gardens, and Wi-Fi zones. Visit the restaurant that will captivate you with delicious menu options characterized by authentic local flavors and fresh ingredients. This fusion gastronomy applies innovative techniques by Marko Bonifaz, one of the best Bolivian chefs. Besides, enjoy heart-pounding outdoor adventures such as canyoning, paragliding, hiking, vertical route, or zip-lining.
Add more excitement to your trip with a coffee tour. Visit the Shanti Farm in the coffee processing plant Café de Altura Munaipata. Participate in three available tours to learn about organic coffee production, from the harvesting to the preparation. Finally, be part of a savory coffee tasting of different varieties.
The recommended time to visit this stunning location is from mid-April to October in the dry season with a minimum stay of two days, and it is perfect for all age targets, groups, solo travel, couples, friends, or families.
Discover more about this authentic lodge that opened recently in April 2023, forehand our Pure! Bolivia staff. Feel free to contact us.
Published in September 2023
BOLIVIA