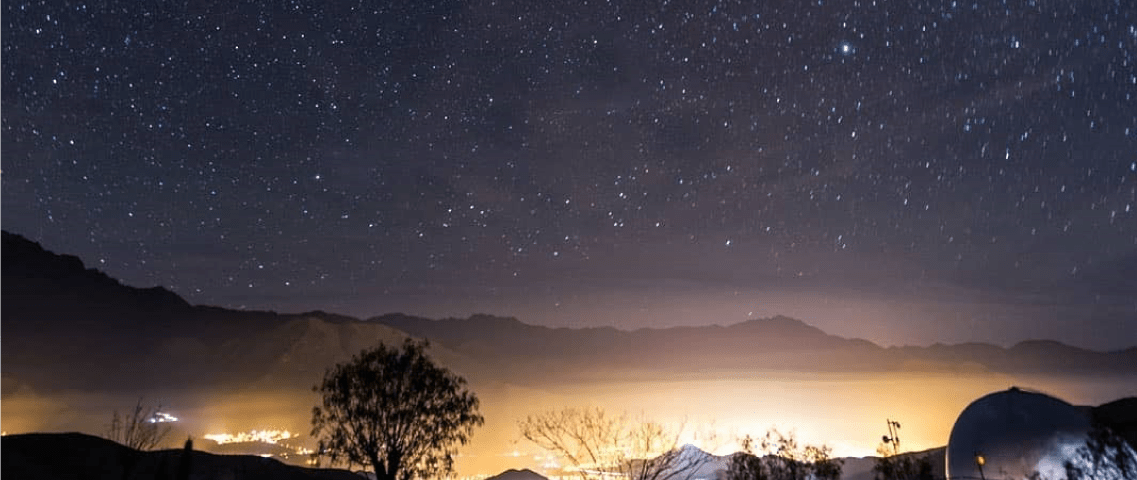 Nowadays, there is an increasing commitment of travelers to find unexpected spots and adventures. One of the world-renowned outdoor experiences to disconnect from everyday life, undoubtedly, is the dreamy starry sky, which is among the driest lands along the Atacama Desert in Chile. It's no wonder, over the years, this destination is becoming one of the most popular for Astro- tourism; due to the large number of projects related to Astronomy investigations, such as the Alma observatory. 
This arid site has the perfect combination of weather, altitude, and low pollution to have an outstanding view of some celestial bodies, such as distant galaxies, clusters, shining stars, or the Milky Way. Once there, here are some recommended hubs for stargazing: the Elqui Valley in the Coquimbo region, and San Pedro de Atacama, in the Antofagasta region. 
Likewise, take advantage of your daytime exploring the surroundings. There are some fascinating highlights to enjoy: El Tatio Geyser, the largest geyser field (4300m approx.) in the southern hemisphere; go around the Atacama Salt Flat, Puritama hot springs, and the famous Valley of the Moon and Mars Valley. Also, explore the ancient archaeological sites and museums of San Pedro. 
Depending on your preferences, you can visit the Atacama Desert throughout the year. The most important thing to consider is checking the lunar calendar, so there won´t be a full moon during your visit. The light from the moon would make it difficult to gaze at the constellations. The high season to visit is in Chilean summer, from December to February. The temperature is warmer during the daytime, but at night it is cold, like in the wintertime. Make sure to pack warmer clothes for a trip in the summer, as you will see the sky at night regardless of the season as the temperature gets chilly at night. If your visit is during the Chilean winter, go from June to September.
Additionally, we recommend you live a complete experience in Chile, complementing your trip with visits to the Santiago wine region to the Casablanca Valley to try high-quality wines and tours to the vineyards.  
Plot a trip to a destination with one of the most impressive starry skies in the world. Contact us to receive information about the best tour services for your clients.
Published in March 2023
CHILE