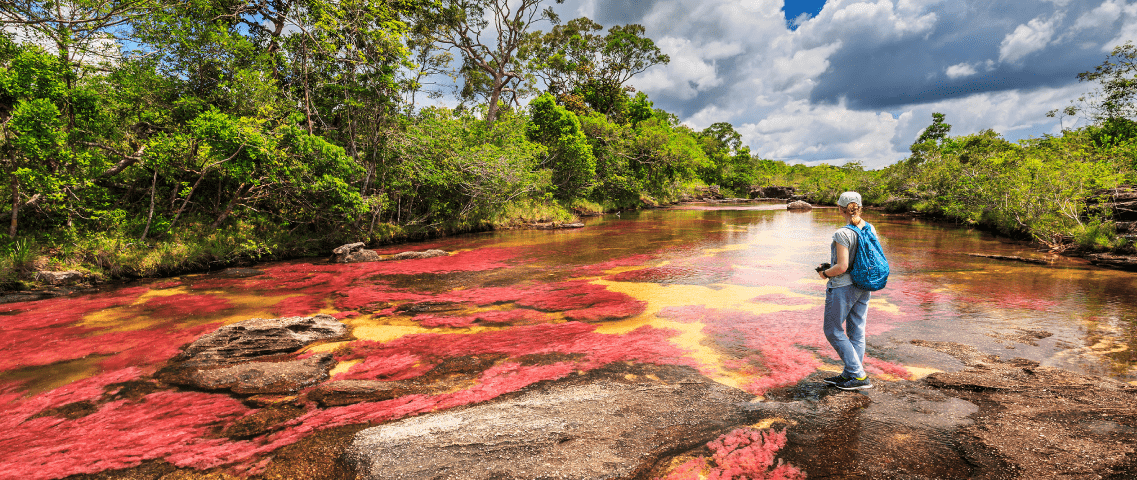 One of the prominent natural treasures for Colombia and the world is the Caño Cristales river, known as the Seven Colors River or Rainbow River, because of its changing color waters during the rainy season from June until the middle of November.
This extraordinary event occurs on the blossoming of the Macarenia Clavigera (an endemic aquatic plant) at the bottom of the river, which varies its color from green to red, yellow, and blue when sun rays reflect on the crystalline waters, and plants absorb it.  
It is an ideal destination for an outstanding adventure at Sierra de La Macarena National Park in the Colombian Llanos Orientales region. There are many land and air routes to arrive at this location. However, the most suitable is by air, due to its remoteness. Start the journey with a flight from Bogotá, Medellin, or Villavicencio to La Macarena Airport. Continue the trip by car, which takes around one hour to arrive at Sierra de La Macarena National Park. Later, board a boat ride for 30 min up the Guayabero river, then a final ride by 4×4 vehicle to finally arrive at Caño Cristales.
Depending on your stay time, there are some trails to explore the national park's natural beauty. The preferred ones are Los Pianos, Salto del Aguila, and Pailones; each takes 7hr approximately. Find incredible waterfalls, kettles, and pristine swimming pools where you can bathe. Along with this marvelous scenery, there is another route to navigate the tranquil Laguna del Silencio waters for sighting birds, reptiles, and tortoises.
Besides admiring the magnificence of the river's view, you can enjoy some activities during the trip. Early in the morning, contemplate the plains sunrise with a delicious cup of the famous Colombian coffee in El Llano viewpoint. Take a horseback ride through the large  Sabana to see the iconic Velloussea flower, and find some streams across the path. At night, it is the perfect place for stargazing. As well as join the local community in the Parrando Llanero traditional celebration to delight in the music and dance performances, especially the joropo dance.
Also, try the tasty and bright-colored Macarenense dish,  in tribute to the Caño Cristales river.  It contains three colored bananas, Pajarito rice, avocado garnish, and fish in sauce,  involved in banana leaves.
Extend your visit, and travel to Barranquilla, best known as La Arenosa, the most cheerful and vibrant Colombian city, the home of many renowned musicians, painters, and writers. Undoubtedly, there is a wide range of cultural activities and attractions. Visit the city's downtown emblematic buildings, the Caribbean Museum, the Modern Art Museum, or the Queen Mary Cathedral. Don't miss out on the natural sceneries such as Bocas de Ceniza, where the Magdalena River encounters the Caribbean Sea, the Barranquilla Zoo, and the Golden Gate Park. 
Just remember to plan in advance your itineraries to Caño Cristales, there are few places available. Feel free to write us for more information.
Published in March 2023
COLOMBIA