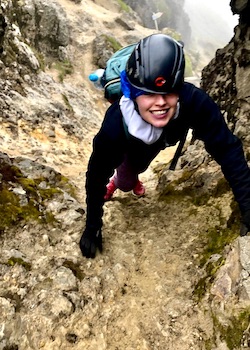 Posted on May 7, 2020
By Mariëlle van der Kooi, marketing intern at Pure! Travel Group
A lot of provinces in Ecuador are named after volcanoes. The city of Quito lies in the province Pichincha, which is also the name of the volcano situated east of the city. A few days after I arrived in Quito for my internship, I was standing on my rooftop terrace enjoying the amazing view of the Pichincha Volcano, and suddenly I decided to climb it the next day.
Early mornings are not really my thing, but since my biological clock was still on European time, it was surprisingly easy to get up early for my hike. After finishing breakfast and filling up my bag with lots of water, snacks and warm clothing, it was time to go and meet Cecilia, my professional guide. First, we drove to the Teleferico, which is the highest cable car in South America. It brought us from an altitude of 2950 meters to 4050 meters. From there, we started our hike of 11 km to 'la cumbre': the peak of the Rucu Pichincha (4696m).
The first kilometers of the hike were really – let's say – relaxing. We followed amazing natural paths, saw incredible plants and little birds and the view was just amazing. Imagine that this was just the start. After a while the trail started to get a bit more difficult, the path was getting smaller and steeper. We continued the trail until we saw a little shelter made out of rocks that was the perfect place to have lunch and rest for a moment, we still had a long way to go. Before we continued after the stop, Cecilia and I first hold each other's hands and asked the Pichincha permission to go up and if he could protect us. I really liked this moment, it made me feel safe somehow.

After a little while we encountered my real first challenge of this hike: climbing a (now I can say) relatively easy wall. You must know that I had never done any climbing before. I tried it once, but it didn't really work out, so at first I was a bit afraid. Cecilia, on the other hand, had a lot of confidence in me and told me exactly what to do. I made it without any problems and I was very proud of myself. But then we arrived at a massive area of climbing through SAND. Yes, the type of sand that you can also find at the beach, but then uphill. Do you know the saying 'two steps forward, one step back'? Well, that's how I felt for a minute.
Then we arrived at a part full of rocks, where the real climbing started. After equipping ourselves with gloves and a helmet we started the last part of the climb. Another challenge, but we had come so far and there was nothing that could stop us now. I actually started to love the climbing, it made me feel united with the mountain. It was hard, but when we finally arrived at the peak and saw the sign saying that we reached the top, I felt like never before: I did it! We stayed here for a while, sat on some rocks and enjoyed the amazing view and our victory. Every time the clouds disappeared, we could see the entire city of Quito in its full glory and on the other side this huge crater. We were on top of the world.

Then it was time to go down and start our 11 km return journey. After carefully securing ourselves through the rocks, we came back to the sand area. Cecilia asked me if I ever went skiing or snowboarding. I had never done either of them, but now I feel like I have, even though it was sand and we just used our feet. It was so much fun and even though it felt like we were going really fast, we actually did not. We continued the walk downhill, still enjoying the view, until we arrived at that same wall I was to climb in the beginning; now, I could not even imagine a little bit why I had been afraid before. We walked until we arrived back at the Teleferico Cable Car, the end point of this adventure that had pushed my boundaries in the best possible ways.
While sitting in the cable car, I realized how much my feet hurt. But I could not care less, I just lived an amazing experience: I climbed rocks for the first time, I sat next to a Curiquingue bird who tried to steal my sandwich, I saw a dog the size of a small horse, I learned about Ecuadorian culture, I went sandboarding for the first time and, last but not least, I explored an amazing part of Quito's surroundings. I would recommend this hike to all travelers who have had some hiking experience, are physically fit and have taken a few days to acclimatize to the altitude.
Also in this challenging time we want to continue to inspire you and your clients. Please feel free to contact us for more information about this or other unforgettable hikes in Ecuador and our other Andean destinations.