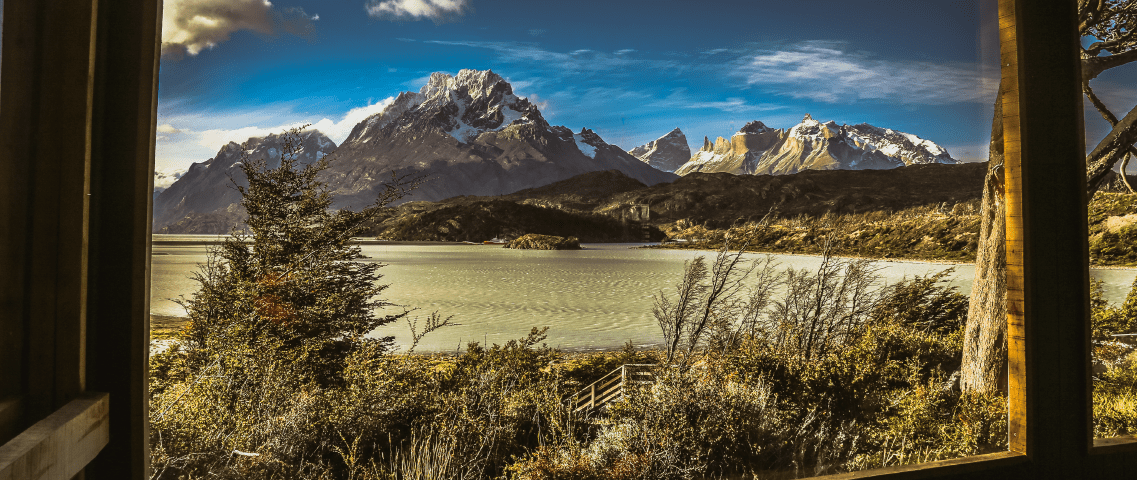 Could you imagine having an intimate wilderness encounter in Chilean Patagonia? Lago Grey Hotel, nestled in the heart of Torres del Paine National Park, is the perfect location for that. 
Delight in the hotel amenities constantly surrounded by the incredible natural beauty of the region. The cozy rooms, decorated in a minimalistic way with large windows, allow you to contemplate the marvelous sceneries of the forests, mountains, and Grey Lake. It also includes comfortable areas, heating, and satellite TV to make your stay a very pleasant one. Visitors can also enjoy many outdoor activities, such as navigating or trekking.  
Navigation expeditions inside the Catamaran Grey III are unforgettable. A must journey for 3 hours across the Grey Lake waters surrounded by outstanding pristine forests, ice floes, and the impressive Paine Grande Hill and Macizo Paine until you arrive at the Grey Glacier, while you enjoy the comfort of the yacht and a glass of the best Pisco Sour. 
In addition, the hotel offers many trekking options in the Torres del Paine National Park. Our first recommendation is to go around  Salto Grande to highlight Patagonian sceneries, including endemic flora, waterfalls, and astonishing views of Nordenskjöld Lake, Paine Grande Hill, Almirante Nieto Hill, and the impressive Salto Grande Waterfall. Another option is hiking to Condor Viewpoint to admire the incredible Paine River, Pehoé Lake, and Macizo Paine, with some luck finding condors flying. Finally, stroll through the pristine forest near the Pingo River banks until you arrive at the Chorrillo Los Salmones Waterfall for wildlife sightings.
We invite you to visit Lago Grey Hotel during the winter season (from May to September) as you can admire the Grey Glacier in its maximum splendor by navigating in the Catamaran Grey III. Also, there are more places available in September where the yacht will set sail twice daily.
Feel free to write us for more personalized information for your clients to take advantage of the extraordinary amenities of Lago Grey Hotel and all the best Patagonian spots. 
Book now! 30% off from 01st May to 30th September, 2023. In addition, special offers in navigation during September Chilean national holidays. Likewise, navigation is available all year, including the winter season.
Published in May 2023
CHILE