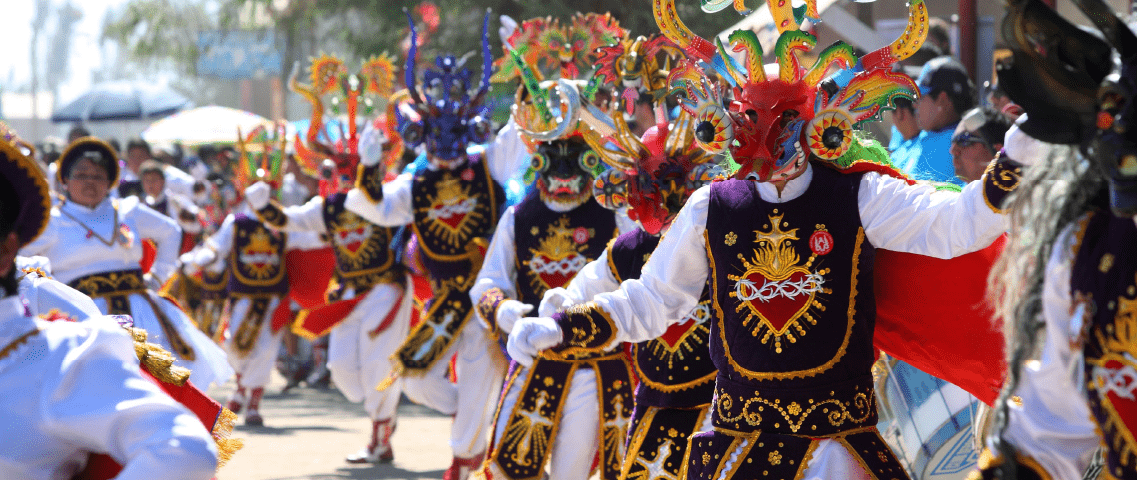 Delve into a world of rhythms, bright-colored customs, and ancient traditions. The northern Chilean region invites you to experience the cultural wealth embodied in La Tirana Festival, the largest in this region and the country's principal celebration. Every July it takes place in the Tarapacá Region in honor of the Virgin of Carmen. 
Its origin skipped through time to the 16th century, where the legend tells us that Ñusta Huillac Incan princess known for her fierce against the European conquerors, quickly gained the nickname of Tirana. However, she fell in love with a Spanish and later converted to Christianity to marry him. Due to this, her subjects felt betrayed and killed them both. As a result, in the 18th century, the Carmen of La Tirana Sanctuary was constructed to honor them. Later in the 19th century, the country modified the celebration by adding more Chilean customs and traditions, after the Pacific War. In addition during the 20th century, many popular Chilean dances were included, such as the bailes chinos, red skin dances, gypsy dances, Arabic dances, and the iconic Diabladas(dance of devils).
Nowadays, the festivity develops from July 10-19 with Catholic religious rituals combined with dance performances. However, the most emblematic day is July 16th. At dawn in the sanctuary, it develops a welcoming Eucharist outdoors. After that,  the celebration continues with fireworks, dances, and music. Then, another eucharist finishes with the procession of the Virgin of Carmen image across the town streets, accompanied by dance performances and many assistants in the surroundings. In the end,  each dance group approaches the sanctuary for their farewell. 
The most captivating dance performances to witness are the Diabladas (dance of devils), the ancient performance of the celebration that represents the battle between good and devil. During this dance, men dancers dressed as devils simulate a fight against the women dancers dressed as angels. 
Once you are there in Tarapacá, we recommend you some must-visit highlights and activities including a tour of the iconic geoglyphs of the region, such as the Pintados Geoglyphs, the largest collection in La Pama del Tamarugal or the Gigante de Atacama geoglyph. Visit Pisagua town for a boat trip to the coastal line to the guaneras rookery to spot birds and mammals, including seagulls, sea lions, boobies, and guaneras. Besides, have an agrotourism experience in a tour to Pica and Matilla or a visit to Humberstone, a former Salpeter office to learn about the history of the Chilean economy's golden era. 
Show your clients the hidden gem of Chile's festival scene, where traditions blend seamlessly with modernity. This is a highly recommended activity to include in your next itineraries to Chile during the winter season. Contact us for more information! 
Published in July 2023
CHILE