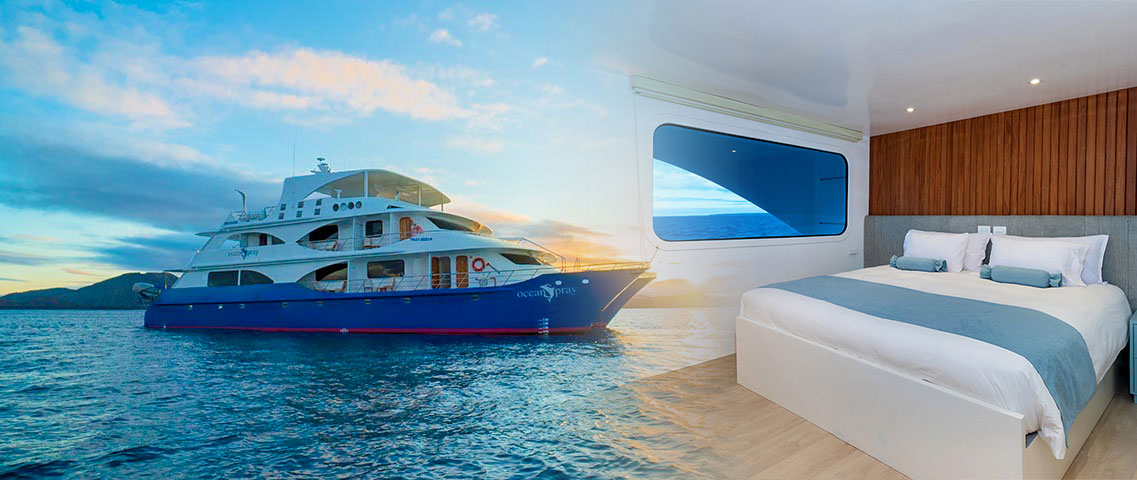 Introducing the Luxury M/C Ocean Spray…
The M/C Ocean Spray cruise is a luxury catamaran suited for 16 passengers with a competent crew, ready to deliver an experience of a lifetime in the Galapagos Islands. This exclusive double-hulled, spacious, and comfortable vessel navigates the many islands, islets, and channels of the Galapagos archipelago. In addition to the highest quality comfort available on a Galapagos cruise, the activities are always enjoyable with a knowledgeable guide, food is out of this world, and amenities and services are in the same league as a five-star hotel!
The Galapagos Islands are known best as an exclusive Eden of flora and fauna where evolutionary changes occur daily. Guests cruising on the M/C Ocean Spray are able to witness natural history happening before their very eyes. Even better, they can do so from the comfort of their extraordinarily designed staterooms and suites. Each accommodation boasts a private balcony and state-of-the-art commodities and amenities, as well as a private bathroom with all the essentials.
Combine or choose an itinerary of 7, 5, 4, or 3 nights to explore the archipelago visiting the different islands and its wildlife.
Book now and save on our special departure on October 4th – 8th, 2022. For more information on this offer contact us at Sales Pure! Ecuador
Chartering the M/C Ocean Spray…
Adding to the exclusivity of the Ocean Spray is the opportunity to charter the entire boat. This is a great choice for special occasions or traveling with a large, multi-generational family. Small groups and friends can also benefit from a charter for an intimate experience. The crew and captain have many years of operation under their belts, therefore making any charter unforgettable thanks to their one-on-one dedicated service.
Why Visit During the Off-Season…
During the months of August through October, the Galapagos Islands see a lower season with fewer crowds. This time of year in the Galapagos is also fantastic for aquatic wildlife. Colder currents are passing through the islands, therefore bringing with them nutrients from as far south as Antarctica. This means that the underwater wildlife is much more active! Galapagos penguins, blue-footed boobies, flightless cormorants, sea lions, sea turtles, and other fauna can be seen actively fishing, diving, and swimming.
Combine Galapagos with More Bucket List Destinations!
Additionally, Pure! Ecuador can also help personalize any services before and after a Galapagos itinerary. There are many more bucket list destinations in Ecuador and conveniently, Pure! can even help combine other South American countries with excellent planning and smooth international connections!
Published in July 2022
ECUADOR