International flights between the USA, Mexico, Ecuador, Brazil, and the Dominican Republic have been operating since early October.

A negative PCR test taken no more than 96 hours (4 days) before flight departure time is requested.

All arriving and departing passengers must fill out the form Check-Mig, information that must be submitted within 24 hours before flight departure, and a maximum 1 hour before flight check-in is closed. 

Travelers must undergo follow-up medical exams through the CoronAPP mobile app. Travelers who are allowed to enter Colombia without proving a negative result in a PCR test must isolate themselves for 14 days in their accommodation.

Travelers are required to use face masks at all times.
Last Updated: October 23, 2020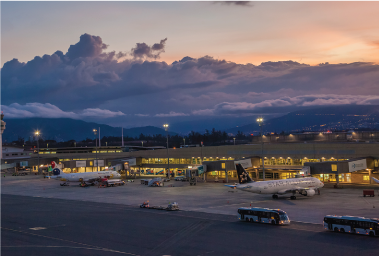 Air international borders have been open since June, with flights arriving in Quito and Guayaquil airports. The Quito International airport has shown an important recovery of domestic and international connectivity, resuming most of its regular flight connections.

Nine available international airlines connect Quito with the following cities: Amsterdam, Miami, Houston, Fort Lauderdale, Madrid, Mexico City, Panama, Lima, Bogotá.

All international and Ecuadorian national and resident travelers willing to enter Ecuador must show a negative PCR test with a validity of 10 days maximum before the entry date and must not present any symptoms of Covid-19. No quarantine will be required in these cases. This test result grants free mobility inside the continental territory. 

For Galapagos travels, tourists must present a negative PCR test result issued a maximum of 4 days (96 hours) before entering the islands. If this test has 4 and more days of issue, a second test must be taken in Quito or Guayaquil cities prior to flying to the islands. Also a "laissez-passez" or "safe passage" must be arranged through the agency booking the tour. Only official agencies can issue this permit.

The negative PCR test for Galapagos must be e-mailed by the official lab to the travel company or DMC in order to be forwarded to the local authorities in Galapagos. Travelers are requested to bring the printed original result. 

Keep in mind that, in case any traveler enters Ecuador without a test, there is an option to take the test at the airport. Pure! can arrange a doctor to meet them at the hotel to take the test, granting a result in 48 hours. During this time, travelers will have to quarantine at a hotel and will be allowed to finish quarantine upon receival of the negative test results.

Travelers inside Ecuadorian territory are required to use face masks at all times.
Last Updated: October 23, 2020
From October 5th, international flights in Peru have resumed operations to and from the following countries: Panama, Colombia, Ecuador, Chile, Bolivia, Paraguay, and Uruguay. 

Starting in November, nine countries in America will be added to the list of allowed destinations connecting with Peru through air, and these are: the United States, Mexico, Cuba, Jamaica, the Dominican Republic, Costa Rica, El Salvador, Brazil, Argentina. And one new connection inside Colombia.

New international flights will be available to and from the following cities in North America: Los Angeles, New York, Orlando, Miami, Houston, Atlanta, Mexico City and Cancun. The new connections in South America include: Cartagena, Rio de Janeiro, São Paulo, Brasilia, Porto Alegre, Foz de Iguazu, Buenos Aires, Rosario, Mendoza, Cordoba and Tucuman. And the new connections in Central America and the Caribbean, include: La Habana, Montego Bay, Punta Cana, San Jose and San Salvador.

The Government is also planning to gradually open land borders.

All travelers arriving into the country will be required to show a negative PCR test, not older than 72 hours (3 days) from the arrival time. 

Incoming travelers are also required to fill out the form "Declaración Jurada Electrónica de Salud", which is an online form detailing the travelers' personal and health information, and requests the acceptance to geolocate the travelers' registered mobile phone. 

Compliance with these two requirements will allow travelers to avoid the 14-day quarantine, except for those showing symptoms of Covid-19 prior to arriving in the country or during their stay.

Face masks are mandatory to use at all times.
Last Updated: October 23, 2020
Air borders are open for international and domestic transport. All land, river, and lake borders remain closed. 

The Bolivian Government extended national quarantine measures through October 31, 2020, to mitigate the spread of COVID-19. 

The wearing of face masks in public places is mandatory and social distancing measures must be respected.

Prohibition on private vehicle use between the hours of 00:00 to 05:00 Monday through Sunday.

Commercial activity is prohibited between from 00:00 to 05:00 on Saturdays and Sundays.

Air borders are open and commercial flights are permitted to operate. Returning Bolivian citizens, residents and foreigners will be permitted to return to the country with no enforced quarantine upon their arrival provided that they submit a valid certification of the PCR test specifically for COVID-19 with a negative result dated within seven days of the return flight
Last Updated: October 23, 2020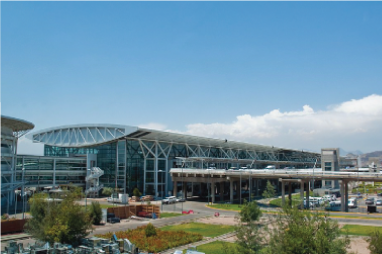 Borders are still closed to international travelers and no confirmed date has been set yet.

International flights are currently permitted only to Chilean nationals and residents, to whom new entry protocols are listed and include: a negative PCR test result taken within 72 hours prior to entry date in Chile. This will allow the person to avoid the 14-day quarantine upon arrival. 

In case the listed travelers do not present the negative PCR result upon arrival, they will be asked to complete the quarantine during 14 days, and this period could be shortened if they provide a PCR test taken in an authorized national laboratory.

Domestic flights are operating between the following cities: Antofagasta, Iquique, Calama, Puerto Montt and Concepcion.

International flights, for the above-mentioned allowed travelers, operate between the following cities: Miami, Madrid, São Paulo, Lima, and Tocumen in Panama.
Last Updated: October 23, 2020