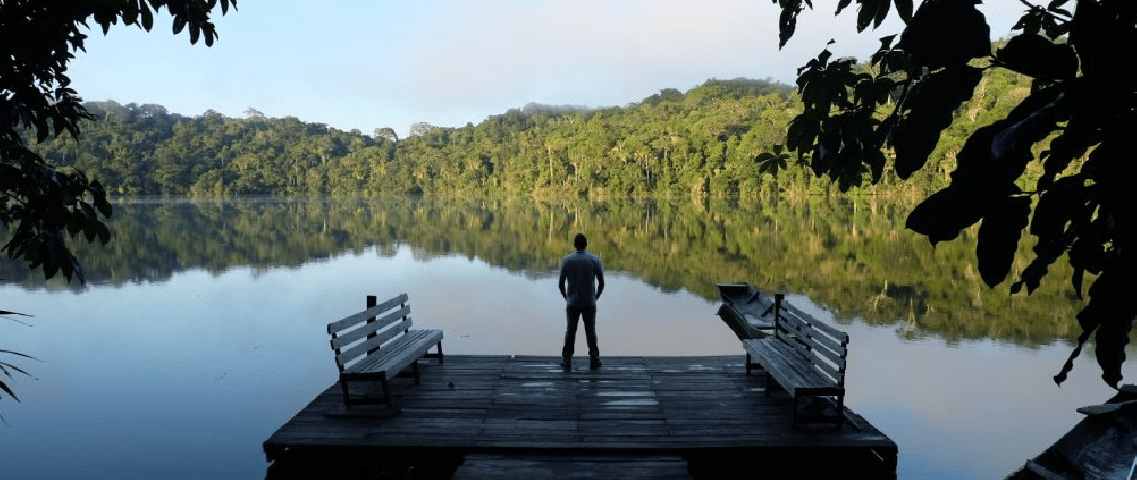 Get captivated by Chalalan Ecolodge,  a place filled to the brim with biodiversity,  pristine forests, adventure, and cultural heritage inside the Madidi National Park in Bolivia. 
Immerse yourself in a truly eco-tourism experience in one of the most inspiring Bolivian Amazon locations covered by primary forests with vast flora and fauna, including some trees dating back from 500 to more than 900 years ago. Explore in depth this territory like no other lodge in the region through the continuous lead of the San José de Uchupiamonas indigenous community staff members and bilingual guides, with absolute respect to the wilderness, conservation commitment, and sustainable practices.  As a result, this lodge was awarded twelve times for its contributions as a model for eco-tourism practices.  
Your adventure starts as soon as you take your flight from La Paz to Rurrenabaque, then an astonishing boat ride for five and a half hours upstream of Beni and Tuichi Rivers, while you marvel at the impressive green sceneries and spot the endemic wildlife. 
Upon your arrival, be welcome to traditional Tacana cabins, cozy accommodations thoughtfully crafted with handmade furniture and ornamentations, along with Mara wood floors, blending seamlessly with the surrounding lush environment. Additionally, guests can enjoy a delicious meal a few meters from the Chalalan Lake in the lodge's dining room which offers local and international food with nourishing and balanced options. It highlights Dumucuavi, a traditional dish of fish wrapped in plantain leaves. 
Besides, guests can be part of exciting activities. One of their favorites is hiking through the primary rainforests, with more than 25km of trails for interpretation, birdwatching, and wildlife sighting, including various monkey species. Take a boat ride through the Chalalán Lake waters to spot species near the river banks, such as capibaras, tapirs, macaws, toucans, and caimans.  Likewise, visit the several viewpoints available to admire a panoramic view of the mountainous scenery and tree canopies of the site. 
The best time to visit the lodge is from May to October. This trip is suitable for families, couples, solo travelers, birdwatching enthusiasts, photographers, producers, and filmmakers. We suggest a minimum stay of two nights to take advantage of this incredible location. 
Complement your trip by making a route that includes the Andean, Altiplano, and Amazon Regions to visit iconic Bolivian highlights such as the Uyuni Salt Flats and Titicaca Lake. 
Request all the information you need for your clients to enjoy all it offers at Chalalan Lodge. Our Pure! Bolivia staff will be pleased to help you plan top personalized itineraries. 
Published in August 2023
BOLIVIA